If you are not a regular St. Martin's supporter we invite you to
Thank you for supporting our ministry during this period of physical distancing.
A note about the structure of this webpage:
This page is set up to enable you to participate in the Liturgy of The Word, during which you will hear the sermon in its natural liturgical context; or you can scroll down the page to hear the stand-alone sermon webcast accompanied by the written text.
You can also view our return to eucharistic worship by clicking here.
---
Order of Service for the Liturgy of the Word
The Liturgy of the Word begins on page 355 of the Book of Common Prayer or online Eucharist Rt II here. Podcasts produced by Christian Tulungen.
The Prelude: Adagio from Toccata, adagio und fuge, BWV 564 by J. S. Bach (1685-1750), Steven Young, organ
Welcome: The Rev'd Mark Sutherland, Rector.
Read a biography of Martin, our patron, here.
The Introit: "Bread of the World in Mercy Broken," att. Louis Bourgeois (1510?-1561?), The St. Martin Chapel Consort
The Greeting: Blessed be God, Father, Son, and Holy Spirit; and blessed be God's Kingdom, now and for ever.
Hymn 174 "At the Lamb's high feast" (vv. 1, 4), The St. Martin Chapel Consort
 1 At the Lamb's high feast we sing
 praise to our victorious King,
 who hath washed us in the tide
 flowing from his pierced side;
 praise we him, whose love divine
 gives his sacred Blood for wine,
 gives his Body for the feast,
 Christ the victim, Christ the priest. 

 4 Easter triumph, Easter joy,
 these alone do sin destroy.
 From sin's power do thou set free
 souls newborn, O Lord, in thee.
 Hymns of glory, songs of praise,
 Father, unto thee we raise:
 risen Lord, all praise to thee
 with the Spirit ever be. 
Collect for Purity
The Gloria S 279, The St. Martin Chapel Consort
The Collect of the Day:
Lord God of hosts, you clothed your servant Martin the soldier with the spirit of sacrifice, and set him as a bishop in your Church to be a defender of the catholic faith: Give us grace to follow in his holy steps, that at the last we may be found clothed with righteousness in the dwellings of peace; through Jesus Christ our Lord, who lives and reigns with you and the Holy Spirit, one God, for ever and ever. Amen.
The First Reading: Joshua 24:1-3a, 14-25, read by Laura Bartsch
Psalm 78:1-7, The St. Martin Chapel Consort
Refrain: God gave them drink as from the great deep.

1 In you, O LORD, have I taken refuge;
     let me never be ashamed.   
2 In your righteousness, deliver me and set me free; *
     incline your ear to me and save me.   
3 Be my strong rock, a castle to keep me safe; *
     you are my crag and my stronghold.   
4 Deliver me, my God, from the hand of the wicked, *
     from the clutches of the evildoer and the oppressor.   
5 For you are my hope, O LORD God, *
     my confidence since I was young.   
6 I have been sustained by you ever since I was born;
     from my mother's womb you have been my strength; *
     my praise shall be always of you.   
7 I have become a portent to many; *
     but you are my refuge and my strength.

Refrain
The Second Reading: 1 Thessalonian 4:13-18, read by Laura Bartsch
Hymn 309 "O Food to pilgrims given" (v. 1), The St. Martin Chapel Consort
 1 O food to pilgrims given,
 O bread of life from heaven,
 O manna from on high!
 We hunger; Lord, supply us,
 nor thy delights deny us,
 whose hearts to thee draw nigh.  
The Gospel: Matthew 25:1-13, proclaimed by Linda+
Hymn 309 (v. 2)
 3 O Jesus, by thee bidden,
 we here adore thee, hidden
 in forms of bread and wine.
 Grant when the veil is risen,
 we may behold, in heaven,
 thy countenance divine. 
The Sermon: Mark+ A stand-alone sermon recording and full text also appear below on this page.
The Nicene Creed: We recite together. Please note italicized inclusive language changes.
We believe in one God,
    the Father, the Almighty,
    maker of heaven and earth,
    of all that is, seen and unseen.
We believe in one Lord, Jesus Christ,
    the only Son of God,
    eternally begotten of the Father,
    God from God, Light from Light,
    true God from true God,
    begotten, not made,
    of one Being with the Father.
    Through him all things were made.
    For us and for our salvation
        he came down from heaven:
    by the power of the Holy Spirit
        he became incarnate from the Virgin Mary,
        and was made human.
    For our sake he was crucified under Pontius Pilate;
        he suffered death and was buried.
        On the third day he rose again
            in accordance with the Scriptures;
        he ascended into heaven
            and is seated at the right hand of the Father.
He will come again in glory to judge the living and the dead,
        and his kingdom will have no end.
We believe in the Holy Spirit, God, the giver of life,
    who proceeds from the Father and the Son.
    With the Father and the Son is worshiped and glorified
        and has spoken through the Prophets.
    We believe in one holy catholic and apostolic Church.
    We acknowledge one baptism for the forgiveness of sins.
    We look for the resurrection of the dead,
        and the life of the world to come. Amen.
The Anthem: "If Ye Love Me" by Thomas Tallis (c1505-1585), The St. Martin Chapel Consort
The Prayers of the People, led by Linda+
The Lord's Prayer, The St. Martin Chapel Consort
The General Thanksgiving
Almighty God, Father of all mercies, 
we your unworthy servants 
give you humble thanks 
for all your goodness and loving-kindness 
to us and to all whom you have made. 
We bless you for our creation, preservation, 
and all the blessings of this life; 
but above all for your immeasurable 
love in the redemption of the world 
by our Lord Jesus Christ; 
for the means of grace, 
and for the hope of glory. 
And, we pray, give us such 
an awareness of your mercies, 
that with truly thankful hearts 
we may show forth your praise, 
not only with our lips, but in our lives, 
by giving up our selves to your service, 
and by walking before you in 
holiness and righteousness all our days; 
through Jesus Christ our Lord, 
to whom, with you and the Holy Spirit, 
be honor and glory throughout all ages. Amen.
The Peace
Hymn 665, "All my hope on God is founded" (vv. 1, 5), The St. Martin Chapel Consort
1 All my hope on God is founded;
 he doth still my trust renew.
 Me through change and chance he guideth,
 only good and only true.
 God unknown,
 he alone
 calls my heart to be his own.

5 Still from earth to God eternal
 sacrifice of praise be done,
 high above all praises praising
 for the gift of Christ his Son.
 Christ doth call
 one and all:
 ye who follow shall not fall.
The Final Blessing
The Postlude: Allegro giocoso from Sept Improvisations, Op.150 by Camille Saint-Saëns (1835-1921), Steven Young, organ
Permission to podcast/stream the music in this service obtained from ONE LICENSE with license #M-400498. All rights reserved.
---
Stand-Alone Sermon Podcast: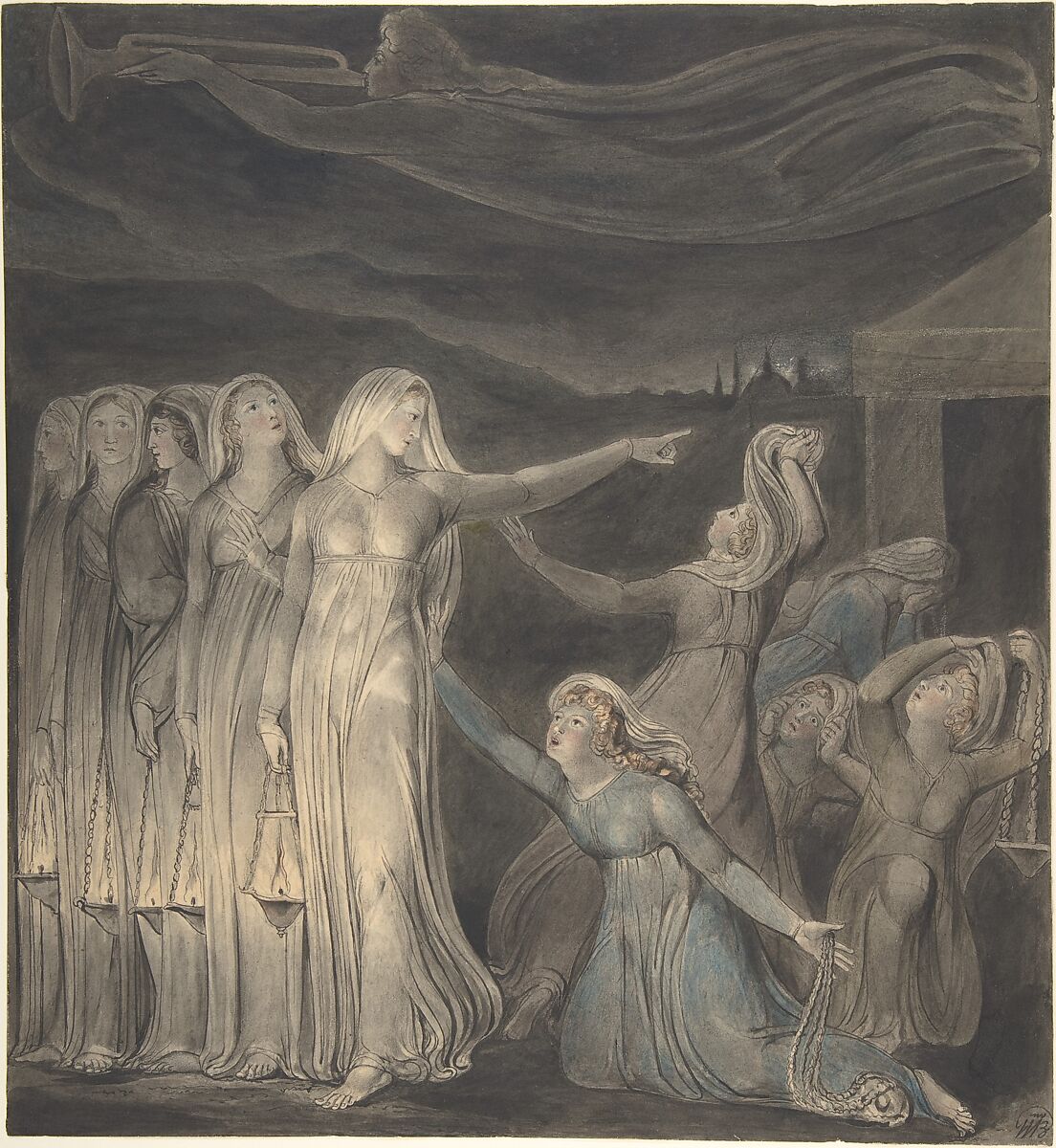 Bridesmaids
Of the three synoptic gospels – so called because they follow a broad outline or synopsis of Jesus life – I like Matthew the least. Matthew's depiction of Jesus lacks the accessible humanity of Mark's presentation and comes nowhere near to the pastoral and social sensitivity of Luke's portrayal. Matthew's Jesus – modelled on the image of a new Moses is more elevated and detached – more guru like – a figure above the fray at whose feet the disciples gather to be inaugurated into the Kingdom of God.
The parable of the wise and foolish bridesmaids – a better translation of the Greek than virgin – is unique to Matthew and is one of his Parables of the Kingdom. Matthew's parables of the kingdom all end with a warning – usually of severe punishment on those who are excluded or exclude themselves from the kingdom. Images of outer darkness with much wailing and gnashing of teeth abound. Themes of inclusion and exclusion form the heart of Matthew's Parables of the Kingdom. Themes of inclusion and exclusion articulate the central struggle for Matthew's community of Jewish followers of Jesus, now excluded from mainstream of Jewish religious life.
Furthermore, the tones of harsh punishment for those excluded – echo the fierce and judgmental Christianity characteristic of so much white, rightwing, evangelical messaging. For this reason alone, Mathew's message of judgement often jars upon my contemporary, progressive, Christian ear.
At the end of the parable of the wise and foolish bridesmaids Matthew sternly warns: Keep awake, for you know neither the day nor the hour". This is a somewhat daunting demand and can only feed our American cultural preoccupation with self-sufficiency.
Of course, no one knows what the future will hold. We develop a tendency to anticipate events based on what we already know about life. Sometimes experience is an accurate guide, yet, often it's misleading. Facing the uncertainties of the future armed only with a partial recollection of past experience, makes us even more anxious.
The problem with anticipation of an assumed dangerous future is that it encourages risk aversion in life. Life lived too safely, is a very unsatisfying experience!
In our society we reserve our harshest judgments for those who fail the – be prepared – test. How easily the phrases: well it's his own fault, or she has no one to blame but herself, or its time they really took responsibility for themselves, trip lightly off our tongues. In fact, one of my favorite comments to friends of either gender is: oh, what a foolish virgin you've been!
I detect in Matthew's parable of the wise and foolish bridesmaids three themes that disturb me a lot.
The first is the stereotypical treatment of women. There would have been quite a number of wedding guests – men as well as women – so why does Matthew focus his treatment on a group of women? He seems to be playing upon the stereotyping of women into two groups – the wise and the foolish; echoing the patriarchal image of women as either virtuous virgins and chaste matrons or wantons and whores.
Motifs of virtue and shame are woven throughout this parable. We are not strangers to this kind of denigration of women -which today is a prevalent theme underpinning conservative (mostly male) hostility to women owning control of their own bodies as compared with so called virtuous women who accept male expectations for both the control as well as the exploitation of their sexuality.
Secondly, I'm disturbed by the picture Matthew paints of the relationship between the so called wise and foolish women. We see a group of women who do not share any sense of solidarity or a commitment to support and aid one another. Instead the wise bridesmaids exalt in the superiority of their preparedness, gloating over their sisters for their so-called foolishness in being unprepared – echoing our oft used judgment of others – well they've only got themselves to blame.
We catch a glimpse here of the gendered nature of traditional Middle Eastern wedding celebrations. In its gender bias this parable lets men off easily – as if this parable could never describe a group of groomsmen – who being men would probably not have been left waiting outside for the bride groom's return because wherever the groom had been – they would have been there partying along with him.
Thirdly, this parable reinforces our prevalent scarcity worldview. The lamp oil is a symbol for scarcity – there is only so much of it to go around. In a culture of scarcity, you keep what you have by not sharing it with others. Within a worldview that sees resources as limited, the pie is only so big – people of necessity are divided into the haves and the have-nots. At St Martin's like the wise bridesmaids there is no mistaking that we are among the haves when the world is viewed from the perspective of scarcity.
This year's capital campaign, along with the final weeks of our annual renewal campaign are reminders the importance of our solidarity with and generosity towards each other.
A question remains, why did the so-called foolish bridesmaids panic? The bridegroom is clearly a metaphor for Christ, who is more likely to have rejoiced in their having waited for his arrival. For me it's their faithfulness in waiting for the bridegroom rather than their self-sufficiency in oil that would commend them to Jesus. The reaction of these women to the bridegroom's arrival has the whiff of shame about it.
Matthew's injunction to stay awake is an odd way to conclude. This isn't a parable about staying awake – after all, they all fell asleep. His gripe is that they were unprepared and in this there is an aspersion of something shameful. What is their shame? It smells to me to be their failure to be self-sufficient. We all know that failure to be self-sufficient leaves us feeling foolish.
If you are not a regular St. Martin's supporter, we invite you to
Thank you for supporting our ministry during this period of physical distancing.